PC-TOOLCRIB Lite> ToolView
PC-TOOLCRIB Lite
ToolView
ToolView is a separate software app that can be installed on specific employee PCs, a PC just outside of a crib/store, or as a facility-wide1 accessible application.
ToolView provides 2 major capabilities working with PC-TOOLCRIB Lite data for machinists and maintenance personnel:
Search by multiple criteria and view (only) detailed information on items and kits eliminating searching through cabinets for the right part or tool.

Can request/requisition items or kits from crib/stores for delivery to work areas or to have picked and made ready for pickup.

ToolView can be used to:
replenish inventory at POU areas

reduce the number of manhours spent walking to the crib/stores

provide a more accurate knowledge of the item needed by employees eliminating mistakes and time crib personnel expend discussing and searching for the items

view all the components of a kit and submit a request for the entire kit or specific replacement components

notify crib/store a critical item is needed and should be purchased as soon as possbile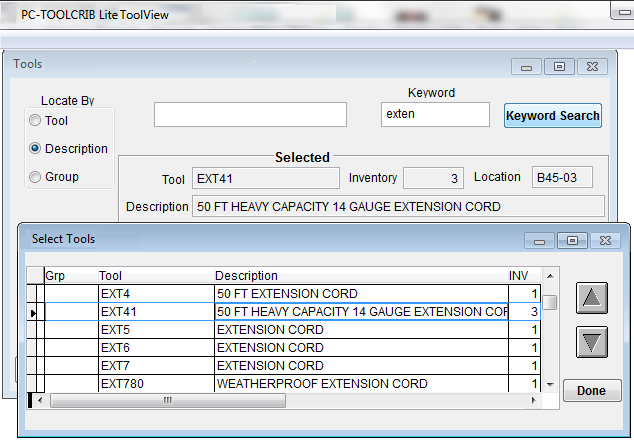 PC-TOOLCRIB Lite ToolView can be used with/without a touch screen

1 Requires site license.