SCIS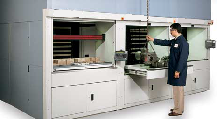 Software for Space-Managed Storage and
Inventory Control of Automated Vertical Lift Units
Please contact us for a list of supported manufacturers.

SCIS is a software package designed for efficient space utilization and to manage the inventory of an unlimited number of SKU's in up to 99 vertical lifts units. It is extremely flexible, and can be configured for simple to the most complex installations with modifications that can be made at any point.

Supports Barcode Readers
SCIS supports the use of barcode scanners for accurate entry of the SKUs to pick, store, or cycle count, and to verify the right SKU is picked, stored, or cycle counted when the shelf is delivered to the workstation platform.

Other Storage Areas
SCIS enables you to also store items outside of the vertical lifts in racks, cabinets, etc. You can designate a preferred storage location in an "Off VLU" area for continual use or you can enter a location after the item is stored. SCIS can print pick tickets for "Off VLU" picks or display the pick/store/inventory command at any SCIS PC associated with the area.

Real-Life Drawer Layouts
Accurate space management is crucial if you want to utilize the vertical lifts to achieve their maximum storage potential. In many instances drawer dividers must be rearranged to accommodate the part you are storing. SCIS provides you with a flexible method to arrange and rearrange the dividers in a drawer so they can be displayed to match their physically arrangement as well as changing the storage spaces. You can optionally enable 3D space management for better cubic utilization.

Host System Data Exchange
SCIS can receive a list of items to pick from another system. Additionally, SCIS can export all transaction data and the part master file for import by another system.

More Features
● Unlimited amount of part numbers.
● Notes per part number viewable at anytime.
● Pre-pick availability check to determine sufficient parts for kits and orders
● Pictures, video or audio for each part number viewable at anytime.
● Optional replenishment based on minimum quantity level and an economic re-order quantity
● Store/pick throughput statistics reporting
● Optional tracking of individual items or kits picked to employees, job, etc. for consumption reporting.
And many more.
Complete turn-key installations are available.